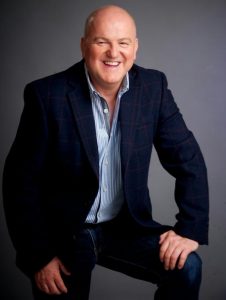 How could you not love that winning smile… :-)Curtis Magee originates from Strabane, County Tyrone but now resides in Coleraine on the beautiful North Antrim Coast.
Recognised as Ireland's No1 solo entertainer, Curtis is able to take you through the musical generations and his repertoire ensures something for everyone in his audience. From Irish ballads, country, gospel songs to sing-a-longs and from music of the 50's and 60's they are all produced in his own unique and engaging style.
Coming from a musical family, it is little wonder that Curtis has inherited such talent. His natural ability extends to the playing of keyboards, accordion and guitar and his easy listening voice adds the finishing touch to every performance.
It is not surprising to know that his success as an entertainer has gained him many awards at various prestigious clubs through out the UK and Ireland. He is also one of Ireland's top recording artistes and to date has recorded over 25 albums and 10 DVD's.
Curtis continues to be one of the busiest entertainers on the circuit today.
His travels have taken to all over the UK, Spain, Portugal, and even as far away as America and Australia.
Whatever the occasion and wherever the place, Curtis with his wealth of wit and Irish charm, will have you tapping your feet, dancing and singing along to exactly what has made him Ireland's No1.